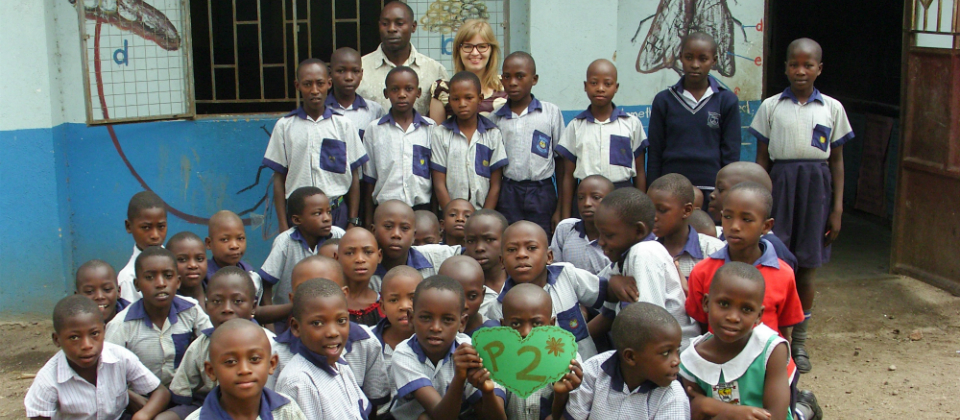 Summer Mission Uganda
by Mirva Hakala
on February 24, 2017
Imagine that you are among a people that look, behave, and eat differently than you. Then you are expected to not only learn to be like them, but actually to teach them. That was the setting I found myself in as I was doing my summer missions internship, for a month, in a village called Muleete in the district of Mubende in the country of Uganda . I participated in many forms of children's ministry done by the local church, called Muleete Community Church. I was sent by CTS and a Finnish mission organization which cooperated with the church and already had a sponsorship program in the village.
Teaching religion and physical education to these Ugandan children was such a privilege because it let me be part of their lives. I got to know what they were doing at school: who was the most active student and which ones preferred to stay quiet. Moreover, helping in a sponsorship program opened the doors of the sponsored children's homes revealing their rough living conditions and overflowing hospitality as we updated the data of the sponsorship program. I also taught at Sunday school, which showed me how to support the spiritual growth of the children in the village and how it went hand in hand with the other aspects of their growth. The vision of the child development program was to train future Christian leaders in order to transform their nation. This touched me because it bore fruit in the village as a result of the mindset that every part of life was connected.
At the same time, I could only grasp the idea what it would mean to live there and still enter their world for a moment. A month was far too short for becoming Ugandan, but at least I could understand the people a bit better, learned to laugh at myself, and realized the orphans were really teaching me. The founder of the church, Wilson Sentongo, tried to teach me to dance, speak Luganda and try plants I had never heard of. What I learned was the fact that these locals would appreciate every effort of mine to be like them and even the smallest detail brought us closer to each other.
Luckily, we humans are very similar. Our deepest needs are the same: we need love, acceptance, and most of all, salvation in Christ. Learning the culture is essential in order to contextualize the Gospel message. It is possible to teach how Jesus can meet our needs even when you are staying somewhere only for a month. The orphans had their devotion time every evening and I spoke there a few times, which made me realize that God had prepared a place for me there. I noticed that the children needed bible teaching and for some reason God had brought me there for that reason. What a responsibility it was! The children believed what I said and were influenced by what I taught and how I prayed. They were like sponges just soaking up everything God was speaking through me. Thanks to this church of children, I realized something significant: children ministry is crucial because what is sown into the hearts of children will bear fruit now and in the future. We see how the joy of Christ fills their hearts and effects those around them, and in the future we will see the character of Christ drive them into spreading the Gospel. Either we invest in the next generation as a church/individuals and we will see a new generation that loves Jesus and worships him or we neglect them and will lose this rising generation.
The children and the people I was honored to get to know were the highlight of my internship: Hilarious and serious conversations with my supervisor and collogue who were in charge of the sponsorship program, special insight and wisdom I learned from Mr. Sentongo, every conversation about our cultures with the children and the smiling faces of the pupils as I entered the classroom. Every colleague at school, Mr. Sentongo's maid and all their spiritual children became my family.
What is more, Jesus was the one who made the time meaningful and significant. He had gone beforehand and prepared everything. He was strong in my weaknesses: he strengthened me when I was sick and enabled me to do the work he had brought me there for. He led the right people to me when our cultural differences were overwhelming. He gave me the right words for every lesson, speech, conversation, and prayer. As God calls us, he also equips, sends and takes care of us.
Furthermore, the work itself was rewarding and something that has always been on my heart: the feeling when pupils realized and learned something, the joy as a poor family without any proper mattress got one as a donation, those challenges that made me grow and learn new things. The presence of God as I preached and that satisfaction as I used my talents for what I love and am called to do. After three weeks it hit me: Muleete was becoming my home village. It was not just a random village in Africa anymore, but it was the people who became more important to me than I had ever expected.
back