Undergraduate Studies in Pentecostal Theology and Biblical Studies
Introduction
This course of studies provides a solid theological education and prepares the students for entering different ministries of the Church and teaching courses related to Christian theology and practice inside and outside the Church establishment. It also introduces the students to personal research in the areas of instruction through the courses, the seminars and the assigned theological research papers. As a Seminary we aim to provide you with an environment where you will be able to prepare yourself for future involvement in a range of Christian ministries or employment opportunities where you will be able to use your academic knowledge and practical skills developed while studying here. Specifically, we expect that you will develop the ability to think clearly about theological issues in Christian life and ministry and that you will be able to demonstrate clear communication skills. This will happen by you becoming aware of the issues related to the development, thought and practice of Christianity and will result in you being able to apply this knowledge and continue in further research according to your own interests and abilities.
What You Will Study
The modules within this program cover the major fields of theology: Biblical Exegesis, Systematic Theology, Church History, Practical Theology and Christian Worship. In addition to the core courses the students are given the opportunity to specialise in Christian Music and Worship.
Specialisations
The programmes of specialisation offered at the seminary are designed to help the student taking a diploma in one area (for example: Bible and Applied Theology) to concentrate some of his studies in a second area of interest. A specialisation is not comprehensive but is structured so that the student may gain a meaningful exposure to another discipline. After completing such a course, the student should have a grasp of the nature of the discipline and should be adequately equipped to do further work in the area of study.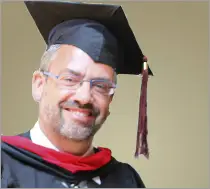 Prof. Ralf Lubs
Academic Dean